Joshua Paul has more than thirty years of experience as a litigator and trial lawyer.  He represents clients in disputes involving trademarks, copyrights, advertising, trade secrets and patents.  He also counsels clients on general business matters and e-discovery readiness.  In addition to his client responsibilities, Joshua serves as the firm's General Counsel.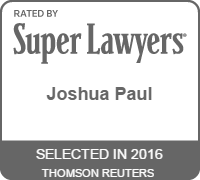 Representative Cases
Norseland, Inc. v. Fromageries Bel S.A.

Led litigation team representing manufacturer and distributor of MINI BABYBEL brand cheese in lawsuit against manufacturer of JARLSBERG MINIS branded cheese. Client successfully defended its claim of trade dress rights in the MINI BABYBEL product's wax wrap primary packaging in action involving claims under the Lanham Act and under federal and state antitrust law.
Northstar Balloons LLC v. Amscan Inc. and Party City Companies

Led litigation team in patent infringement and unfair competition action brought on behalf of manufacturer of Mylar balloons against competitor and "Party City" retail chain. Reached mediated settlement shortly before the end of discovery.
The Velvet Underground v. The Andy Warhol Foundation for the Visual Arts

Led litigation team defending nonprofit foundation established under the will of Andy Warhol in a lawsuit over the licensing rights to Warhol's famous "banana design." The district court granted our motion to dismiss plaintiff's copyright-related claims. Case settled on favorable terms before trial.
BC-USA v. Bel Brands USA

Led litigation team defending the manufacturer of BOURSIN brand of spreadable cheese in a trade dress infringement case brought by its competitor, the manufacturer of ALOUETTE brand cheese products. After a period of expedited discovery, the plaintiff withdrew its motion for a preliminary injunction. Case settled shortly thereafter.
The Swatch Group Management Services Ltd. v. Bloomberg L.P.

Led litigation team representing Swiss public company as plaintiff in copyright infringement action arising from defendant media organization's distribution of an unauthorized recording of our client's conference call with financial analysts. The District Court upheld our complaint and denied defendant's motion to dismiss. The Second Circuit eventually reversed on other grounds.
Omega SA v. 375 Canal, LLC

Led litigation team in "contributory counterfeiting" action brought on behalf of owner of the OMEGA watch brand. Client filed complaint alleging that defendant real estate developer knew or should have known that third parties were selling counterfeit "Omega" watches from defendant's building. The district court denied defendant's motion to dismiss, holding that our complaint stated a cause of action for contributory trademark infringement. In parallel action against different property owner, Omega SA v. Javin Canal Realty Co. (Southern District of New York), obtained permanent injunction on behalf of trademark owner requiring defendant property owner to periodically inspect leased premises for signs of trademark counterfeiting activity.
Archie Comic Publications, Inc. v. Penders

Led team representing comic book publisher as the plaintiff in a declaratory judgment action against a former independent contractor. The principal issue involved ownership of the copyright in "Sonic the Hedgehog" and "Knuckles the Echidna" comic book series. The case settled following pre-trial mediation.
The Stephan Co. v. Elizabeth Arden, Inc.

Led team representing defendant, owner of trademark PROVOCATIVE INTERLUDE for fragrances, in trademark infringement action initiated by owner of mark INTERLUDE, also for fragrances. After evidentiary hearing, the court denied plaintiff's motion for preliminary injunction and resolved all likelihood-of-confusion factors in client's favor.
Warner-Lambert Co. v. Internet Domain Name

Led team in successfully representing pharmaceutical companies as plaintiffs in lawsuit brought under federal anti-cybersquatting statute against persons who registered corporate name "Parke Davis" as Internet domain name and then linked domain to website containing offensive material.
Planalytics Inc. v. Kirk

Represented plaintiff/employer in lawsuit against former employees and their current employer complaining about defendants' breach of non-competition clause of employment agreements and theft of trade secrets relating to methodologies of long-range weather forecasting.
Societé des Hotels Meridian v. LaSalle Hotel Operating Partnership

Represented defendant hotel property owner against claims of false advertising and trademark infringement, brought by owner of Le Meridian hotel chain.
The Learning Network, Inc. v. Discovery Communications, Inc.

Represented owner of educational website LearningNetwork.com as declaratory judgment plaintiff filed against cable TV network. Principal issue was whether client's use of THE LEARNING NETWORK as the name for educational website was confusingly similar to the name of defendant's cable channel, THE LEARNING CHANNEL / TLC. Case settled during jury selection.
Estee Lauder, Inc. v. The Fragrance Counter, Inc. and Excite@Home, Inc.

Led team representing plaintiff/brand owner in online advertising case of first impression. Client filed lawsuits in the United States, France and Germany to challenge Internet search engine's practice of "selling" client's famous brand names as keywords to trigger targeted banner ads of retailers outside client's preferred distribution channel. Case settled on terms favorable to client after French court entered permanent injunction against defendants and client then moved to attach European patents owned by defendant search engine company.
Conopco, Inc. d/b/a Calvin Klein Cosmetic Company. v. Cosmair, Inc.

Led team representing plaintiff, which owned the license to use the CALVIN KLEIN trademark for fragrances, in lawsuit filed against competitor. Client alleged that the bottle design of defendant's newly-launched RALPH LAUREN ROMANCE fragrance product infringed client's trade dress rights in bottle design of client's CLAVIN KLEIN ETERNITY fragrance product line. Case settled after the court held an evidentiary hearing on plaintiff's motion for preliminary injunction.
Estee Lauder, Inc. v. The Gap d/b/a Old Navy Clothing Company

Represented leading fragrance/cosmetic company in trademark infringement lawsuit challenging defendant retailer's use of 100% as trademark for bath and hair care products. Client alleged that defendant's use was likely to cause confusion vis-à-vis client's CLINIQUE 100% Time Release Moisturizer product line. After bench trial, district court permanently enjoined defendant from using 100% as a trademark.
Estee Lauder, Inc. v. Airs Int'l., Inc.

Representing plaintiff fragrance company, defeated defendant's motion for summary judgment in an action claiming that defendant's use of the trademark WHITE LACE infringed plaintiff's trademark WHITE LINEN, both for fragrance products.
Genesco, Inc. v. T. Kakiuchi & Co.

Represented plaintiff/shoe manufacturer against overseas supplier in action involving commercial bribery (Robinson Patman Act) and civil RICO claims.
Sanrio Co., Ltd. v. Ann Artic, Inc.

Represented plaintiff, owner of HELLO KITTY trademarks, in copyright infringement lawsuit against importer and distributor of counterfeit product.
Pilates, Inc. v. Pilates Institute

Represented plaintiff in trademark infringement action. Court denied defendant's motion to dismiss on jurisdictional grounds.
Professional Leadership
Mr. Paul participates actively on various committees of the American Bar Association's Litigation Section, including the Intellectual Property Law Committee, Ethics and Professionalism Committee, and Business Torts and Unfair Competition Committee. His professional speaking activities and bar association leadership positions include:
Editorial Board Member, The Trademark Reporter – published by the International Trademark Association.
Editorial Board Member, Intellectual Property Strategist – a monthly newsletter published by American Law Media.
Speaker at various American Conference Institute two-day programs on copyright and trademark, "Effectively Proving Infringement at Trial."
Speaker at various American Bar Association Intellectual Property Section spring CLE meetings on "Strategic Use of Surveys in Trademark Litigation," "Targeted Online Advertising," "Regulation of Commercial Email Under CAN-SPAM," and "Presenting Expert Testimony at Trial."
Chair, Daubert Rulings Subcommittee of the American Bar Association's Section of Intellectual Property Law.
Chair, American Bar Association's Special Committee to Study the Trademark Counterfeiting Statute.
Member, Saul Lefkowitz Moot Court Competition Committee, International Trademark Association.
Honors and Awards
In 2007, Mr. Paul was elected a Fellow of the American Bar Foundation. The Fellows is an honorary organization of practicing attorneys, judges and law professors whose professional, public and private careers have demonstrated outstanding dedication to the highest principles of the legal profession.
Each year since 2006, Joshua has been included in the annual listing of New York Super Lawyers, published as a supplement in the New York Times Magazine.
Bar Admissions
New York State
U.S. Supreme Court
U.S. Court of Appeals, Second Circuit
U.S. District Court, Southern District of New York
U.S. District Court, Eastern District of New York
Education
Joshua is a graduate of Yale College (B.A. in history, cum laude) and Northwestern University School of Law (J.D.).